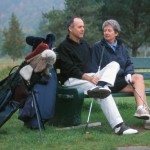 Just back from an anniversary trip to Costa Rica with the hubby (more on the trip in future posts). We met some interesting ex-Pats down there — mostly Baby Boomers — who've left the USA for a variety of reasons including healthcare, cost of living, and lifestyle choices. So it was timely to come across a Wall Street Journal article while doing some reading at the airport, that talks about the "10 Places Boomers and Millennials are Escaping From Fastest." Those not leaving the country altogether are still leaving for warmer climates where the job market is an inconsequential consideration.
According to the article, which you can access by clicking here, Boomers are moving from higher priced to lower priced markets while Millennials are doing the reverse. I was surprised to see more than one county in my own metro area on the list of the ten places that Boomers are leaving the fastest – here's the full list:
Atlanta, GA (Fulton County)
Washington, DC (Arlington, VA County)
Atlanta, GA (DeKalb County)
Detroit, MI (Wayne County)
Atlanta, GA (Clayton County)
Washington, DC (Alexandria, VA County)
Milwaukee, WI (Milwaukee County)
New York City, NY (New York County)
Atlanta, GA (Cobb County)
Cincinnati, OH (Hamilton County)
It's a bit shocking to see four Atlanta-area counties on the list; I've always thought of Atlanta as an affordable location with a good quality of life. But apparently many Boomers, no longer concerned with living near a good job market, are moving to warmer climates where housing and amenities geared for an active retirement are offered, such as cities in Florida and Arizona.