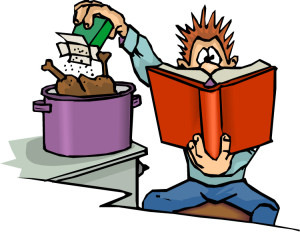 Nostalgic for those great recipes that mom and grand mom used to make? Recipe Re-Do will share these great old recipes and provide a modern day, healthier substitution for some of the ingredients in these delicious classics.
Savory Cheese Chive Waffles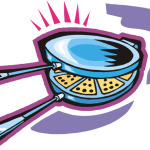 (Note: I found this low carb recipe at www.yourlighterside.com – it's not retro but I have noted some adaptations I've tried that work equally well.)
1 cup processed raw cauliflower (I chop it up in a food processor until it resembles crumbs or rice) (RE-DO: try broccoli for a different flavor)
1 cup processed mozzarella cheese, shredded (RE-DO: I've used cheddar and it added a golden color. Swiss or gruyere would work, too.)
1/3 cup Parmesan cheese, shredded (beware of lower fat substitutions – they often add unnecessary sugar, so check the carb count)
2 eggs
1 tsp garlic powder
1 tsp onion powder
1/2 tsp pepper
1 Tbsp. chives
Fresh parsley and sun-dried tomatoes are suggested options. I've not tried either, but I have added cilantro, my favorite herb.
Heat a waffle maker until it's ready. Mix all the ingredients together and drop by about 1/4 cup portions onto the waffle maker. Cook for four minutes or so. You'll know they're done if they're browned and don't stick to the waffle maker). Make the whole batch because whatever you don't eat at first will refrigerate well. Since these waffles remind me of potato latkes, I eat them with a dab of sour cream (again, beware the low fat version, which only adds sugar).
Impossible Tuna Pie
1 can (12-1/2 ozs) tuna, drained (RE-DO: Use white tuna in spring water)
1 cup shredded, processed American cheese (RE-DO: 1 cup shredded cheddar, made with 2% milk)
1 pkg (3 oz) cream cheese, diced (RE-DO: Light (but not fat free) cream cheese)
1/2 cup sliced green onions
1 jar (4 oz pimentos, drained (RE-DO: Roast and slice red peppers)
2 cups milk (RE-DO: Use 2% milk, but not skim or fat free)
1 cup Bisquick baking mix (RE-DO: Use Bisquick Heart Smart mix – click here to order through Amazon if you can't find this locally, but it only comes in a pack of three via Amazon so share with friends)
4 eggs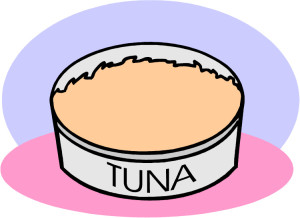 3/4 tsp salt
dash of nutmeg
Heat over to 400 degrees. Grease pie plate (RE-DO: coat with non-stick spray). Mix tuna, cheeses, onions and pimentos (or peppers) in pie plate. Beat remaining ingredients in blender on high. Pour into pie plate. BAke until knife inserted in center comes out clean, abut 25 to 30 minutes. Garnish with diced tomatoes and sliced green onions.
My Jewish Mother's Chicken Noodle Soup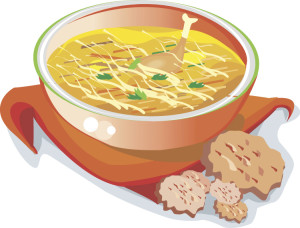 It's pretty difficult to upgrade perfection so the changes to this classic recipe are not much changed. I thought I'd share now because with school starting, colds and flus are likely to be on the rise. This chicken soup, a/k/a Jewish Penicillin, always comforts when someone is sick.
1 whole chicken (2.5 to 3 lbs.)
2-3 carrots peeled and chopped into small pieces (RE-DO: Instead of peeling, chop as is for extra fiber)
1 parsnip, peeled and cut into 2-3 long pieces
1 small onion
1-2 celery stalks, chopped into small pieces
1 bunch fresh dill
1 package egg noodles, cooked (RE-DO: Replace the egg noodles with whole wheat noodles or, better still, farro)
Salt and Pepper to taste
Rinse the chicken under cold tap water (first remove any bags or pieces-parts from the cavity). Place the chicken in a large soup pot and cover completely with water. Add carrots, parsnips, celery, salt and pepper. Bring to a boil and then lower the heat to medium-low. Cooks for 40 minutes and then add the fresh dill weed to the pot (you'll possibly want to add more salt and pepper, too). Cook for another 20 to 30 minutes until the chicken is cooked through (you can tell by spearing the breast with a fork – it's done if it's tender).
Remove the chicken from the pot, drain it over the sink and then put it on a serving plate. You can serve it whole or cut up. It's also nice to slice off some pieces to serve in the soup bowl. Remove any vegetables or herbs you don't want to eat, such as the dill. Remove the other vegetables with a slotted spoon and add them to the serving dish (Note: if you've never eaten parsnip cooked in a pot of chicken soup, you're in for a treat). Strain the soup in the pot so it's a clear broth. Serve the soup in a bowl with the noodles or farro and enjoy the chicken and vegetables as the main course. As I'm writing this, I'm thinking of my grandma Clarice and my mom – so nice!
Green Goop (a/k/a Easy Ambrosia)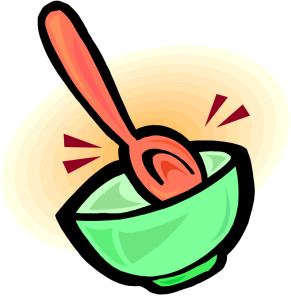 1 tub of Cool Whip (RE-DO: Fat free Cool Whip)
1 package of pistachio pudding mix (RE-DO: Sugar free pudding mix – can use any flavor)
1 small can pineapple in heavy syrup (RE-DO: 3/4 cup fresh pineapple in small cubes)
Mix all ingredients (don't cook the pudding mix), chill and serve as a side dish or dessert.
Beef Stroganoff
1 full round steak
2 large onions
Olive oil for browning
1 can mushrooms, drained (RE-DO: slice a cup of fresh mushrooms)
5 beef bouillon cubes (RE-DO: substitute Spice Islands Summer or Winter Savory Spices, or try Better than Bouillon, which is slightly better)
Flour or corn starch for thickening – approximately 1 tablespoon (RE-DO: substitute almond meal)
1 pint sour cream (RE-DO: substitute a pint of non-fat, plain Greek yogurt – I love Fage)
1 pkg. wide egg noodles (RE-DO: using an serrated vegetable peeler, peel zucchini or eggplant* into pasta-like strips)
Salt and pepper to taste
* If you use vegetable strips to replace pasta, first place them in a colander in the sink, sprinkle them with salt and let them sit at least 30 minutes to drain out the excess water.
Instructions: Cut steak into small cubes, trim fat and bone (you can cook with the fat and bone for more flavor, but remove before serving). Brown meat, onions and mushrooms in skillet with olive oil. Cover with water and cook one to one and a half hours or until tender, adding water as needed. Fill skillet with water and bouillon, add flour or almond meal to thicken. Add sour cream or Greek yogurt. Serve over noodles or vegetable pasta. Leftovers can be frozen.